One Community Health's Mobile Medical Unit will be on the Dufur campus again on Wednesday, September 27th. Appointments are available for Dufur students and staff members. Appointments may be requested at onecommunityhealth.org/school-based-health-services. Choose the Mobile Services in Wasco County to schedule an appointment in Dufur.

For the first My Day Friday, students in Ms. Ford's 4th grade class selected fruit from their classroom fruit stand. Students then practiced using sensory details to describe how the fruit looked, smelled, felt, and tasted. They will apply these skills to their future personal narratives!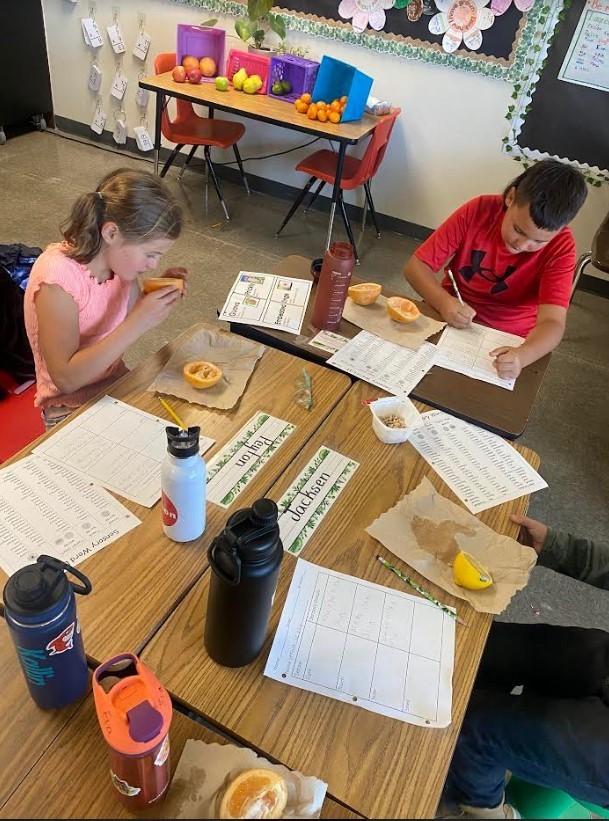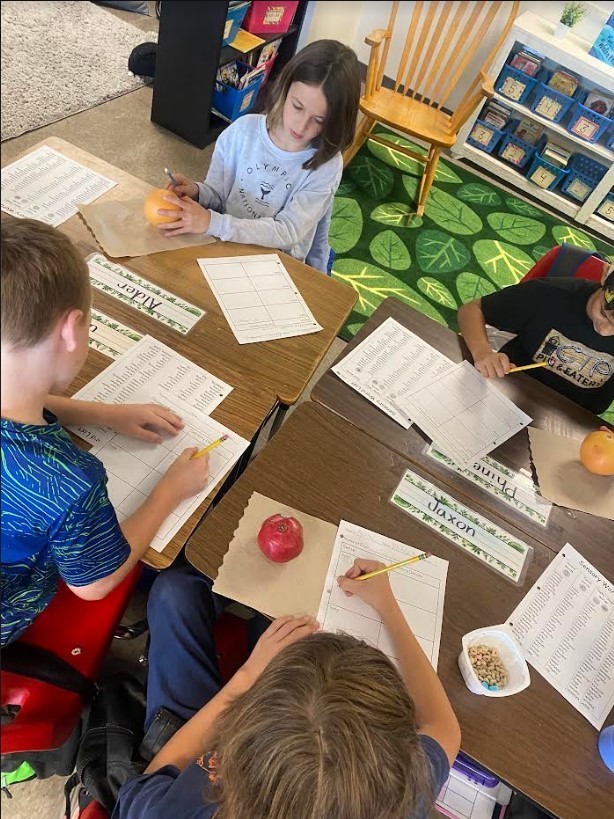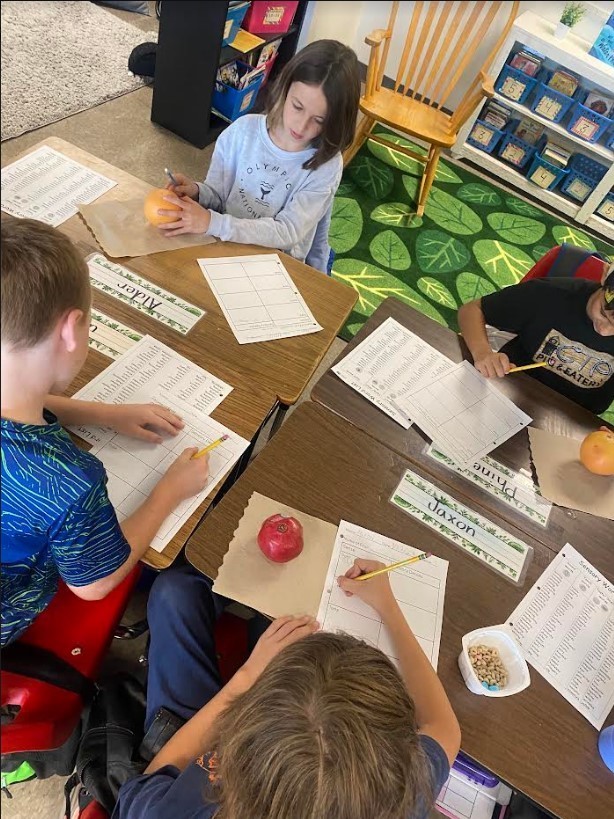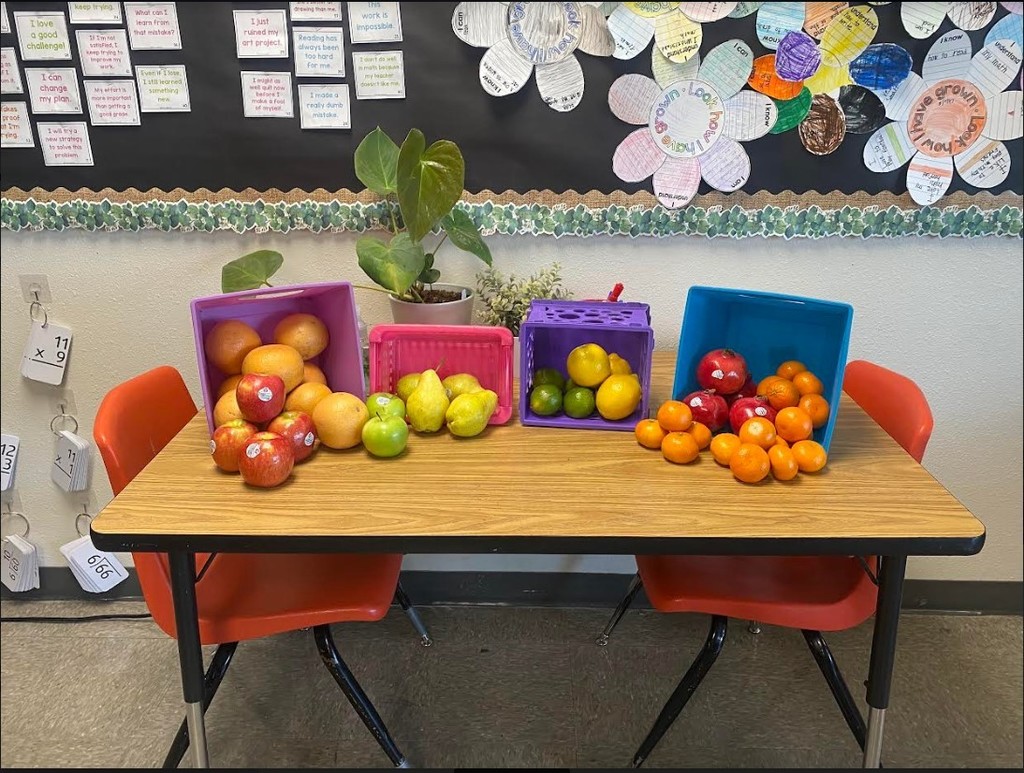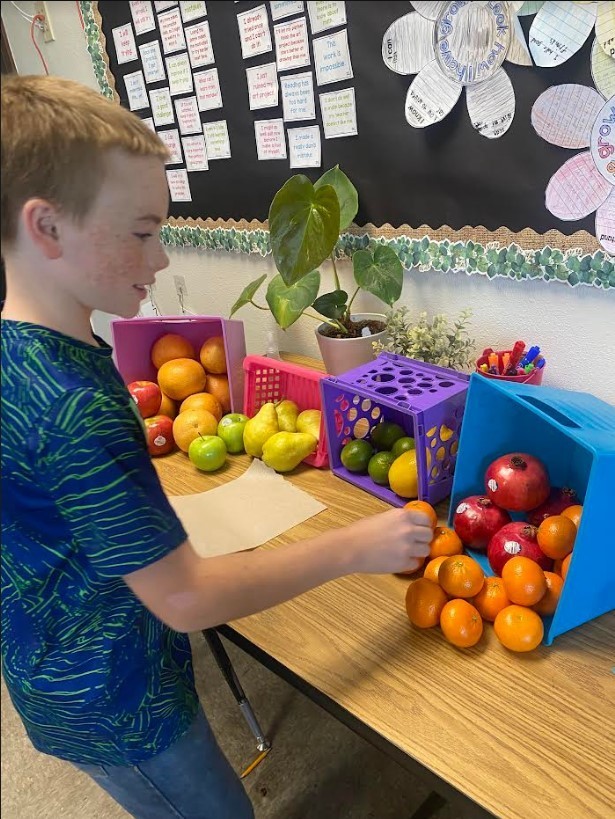 Every September, National Voter Registration Day encourages Americans to register to vote and celebrate America's freedom to have citizens shape federal, state, and local governments. Mrs. Anderson's American Government class celebrated the day by voluntarily registering to vote if kids chose to. (Voters can register at the age of 16 in Oregon, even though they won't receive ballots until the age of 18.) Another generation of voters is on its way!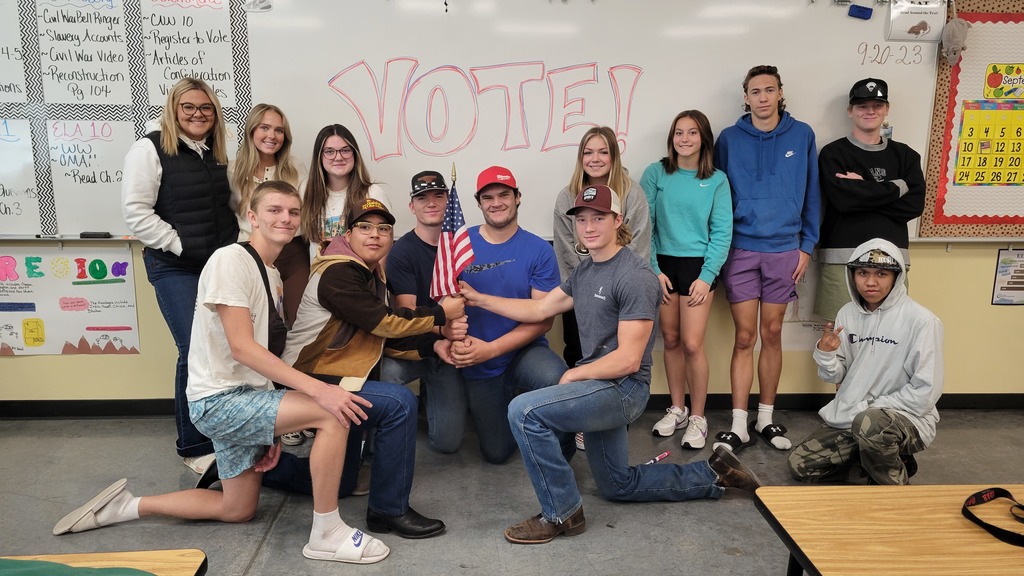 On Thursday, Mrs. Gratiot's 4th grade class celebrated their study of genres with a Book Tasting. Students "tasted" books from a variety of genres in a cafe setting and ended the day with juice and cupcakes and a list of books to enjoy as they begin their 40 Book Challenge next week!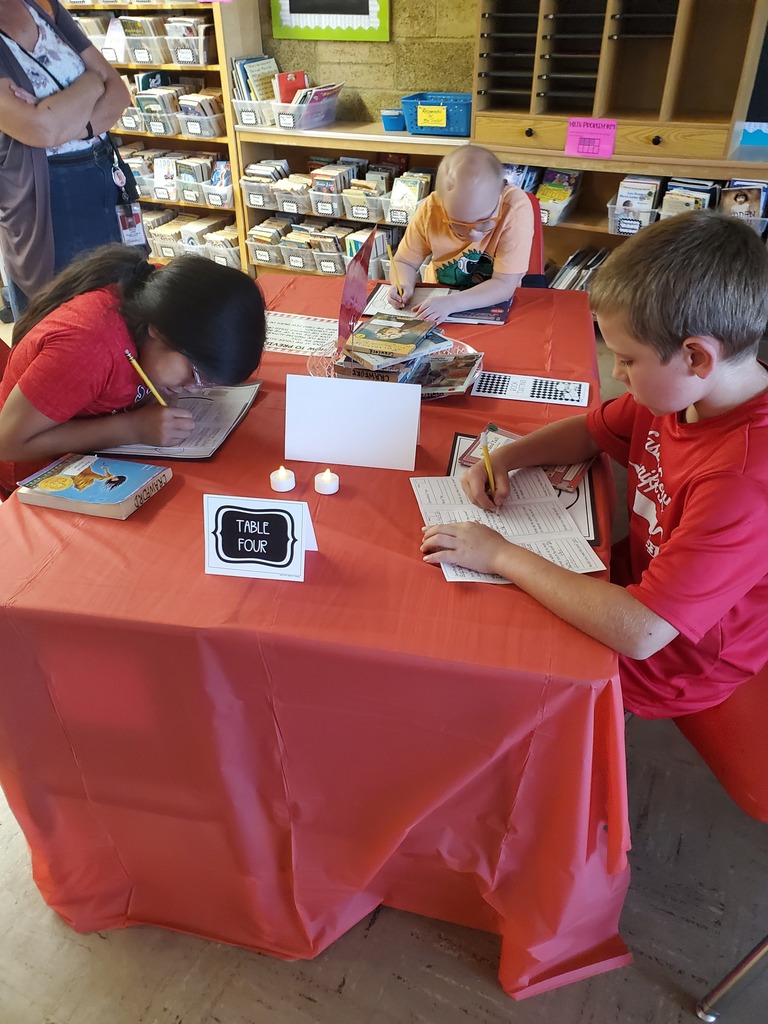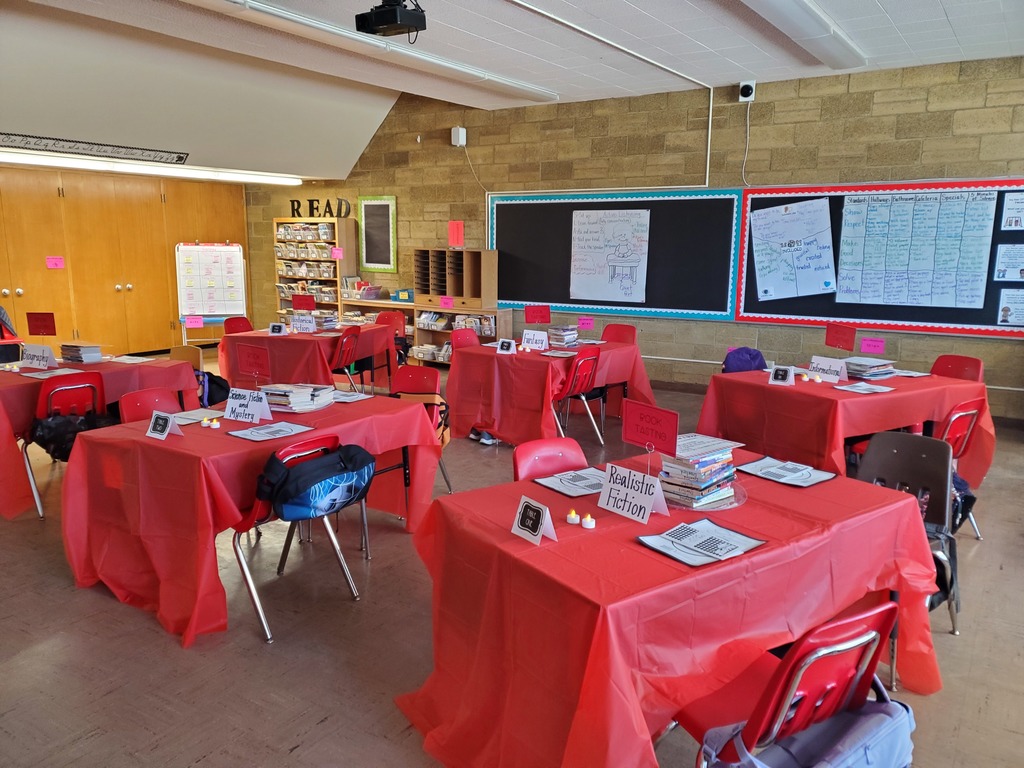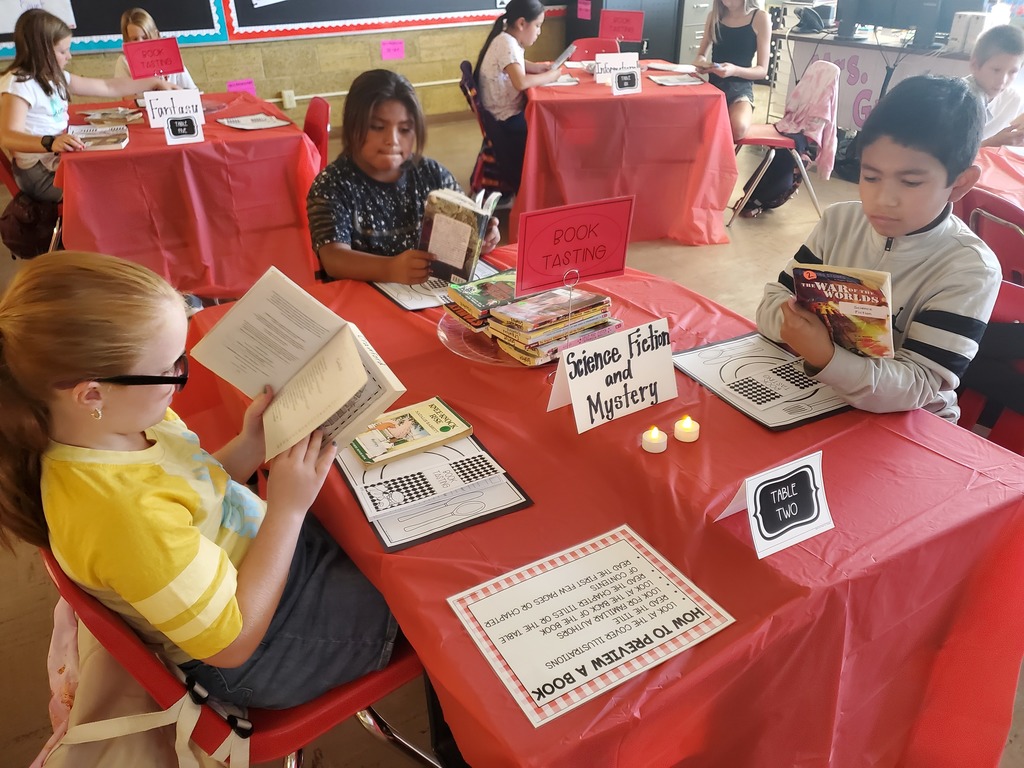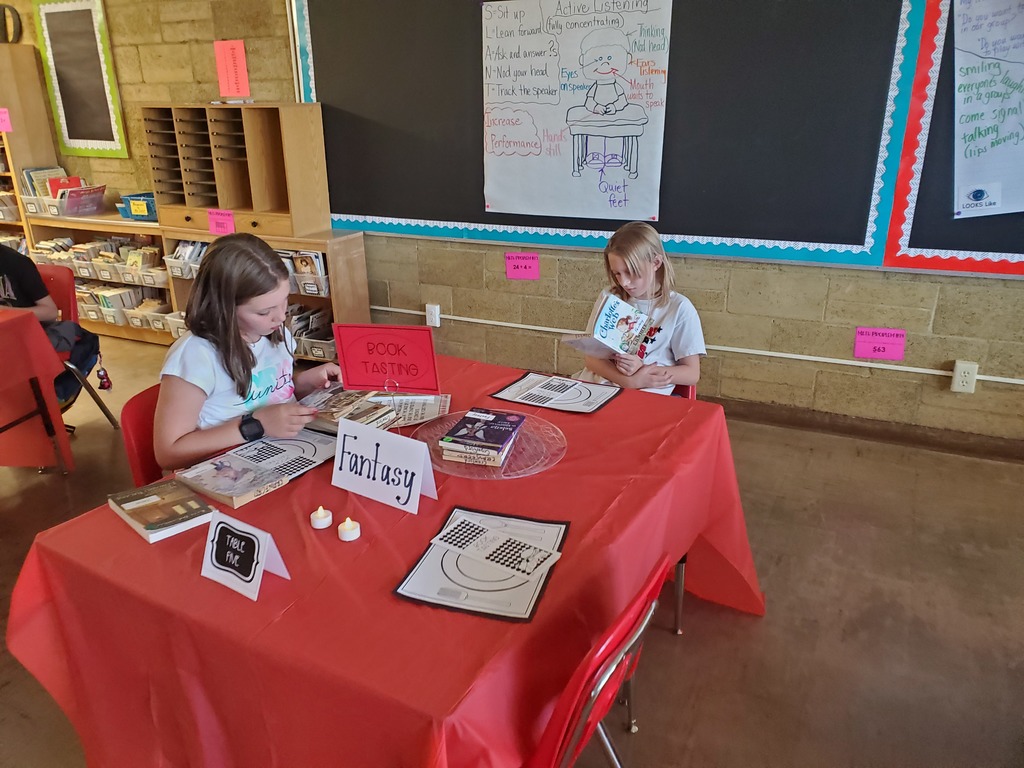 Parents, LINQ Connect, our lunch software provider is experiencing technical difficulties. You may notice a few duplicate charges on your child's account. Please be assured that we are aware of this issue and are working with LINQ to get the issue resolved as soon as possible!




Third through 12th grade parents who are interested in enrolling your child in Dufur School's afterschool program please contact Tess Welk for a registration form. After school program will start on October 2nd.
tess.welk@dufur.k12.or.us



Parents, we have changed the way students enter the building in the morning. If you drop your child off at school, please enter the main parking lot and drop them off at the front door. The only students who should be dropped off at the back parking lot (Mill Street entrance) should be preschool children. K-12th grade students should not arrive at school before 7:45 a.m. Preschool students should arrive at 8:00 a.m. Thank you for following these guidelines for the safety of all students.

Parents, this is just a reminder that all athletes need a current physical to participate in extra-curricular sports. Athletes need a physical in grades 7, 9, and 11 with the exception of football players who need a physical every year. If you are not sure if your child is due for a physical, you can contact the school office. Attached is a copy of the schedule for the OCH Mobile Medical Unit's visits to the Dufur School Campus. It has the link you will need to schedule an appointment. You can use this to schedule for sports physicals as well as the other services listed.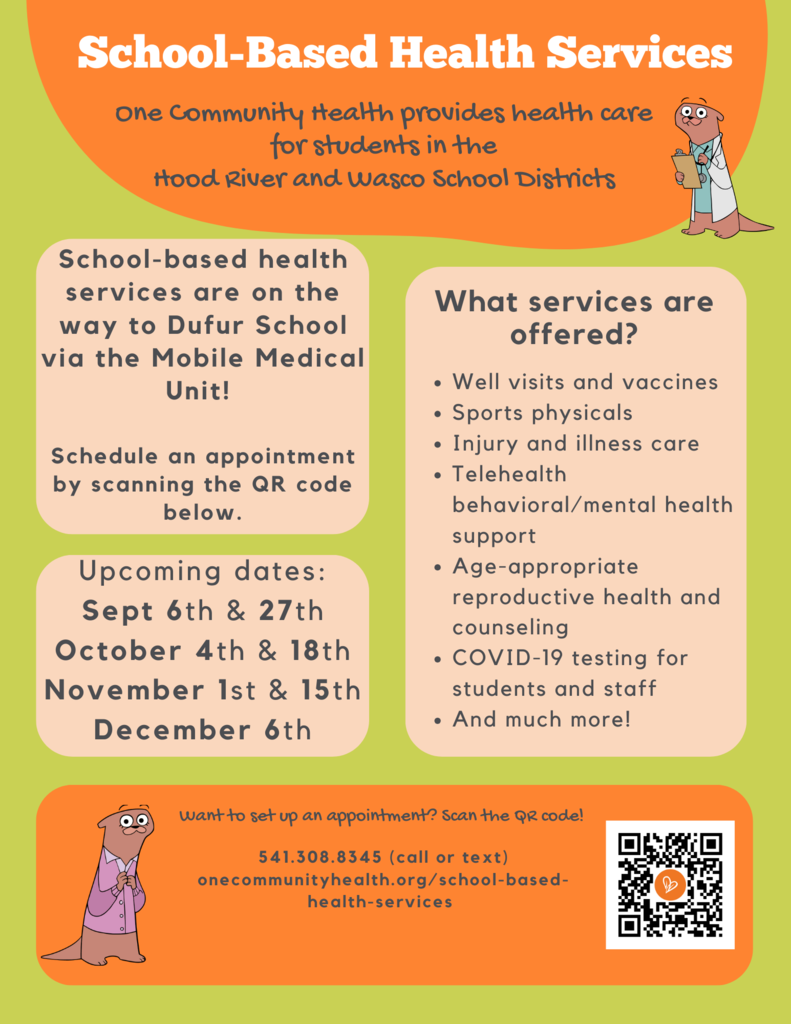 The Classic starts today with Football, and Volleyball will begin tomorrow. The Ranger's Football team plays tonight at 7:30 pm against Cross Point Christian. The Ranger Volleyball team begins with a match against Camas Valley tomorrow at 9:00 am. Please join us for this weekend of great high school sports! Don't forget that we will be serving lots of delicious food at concessions too!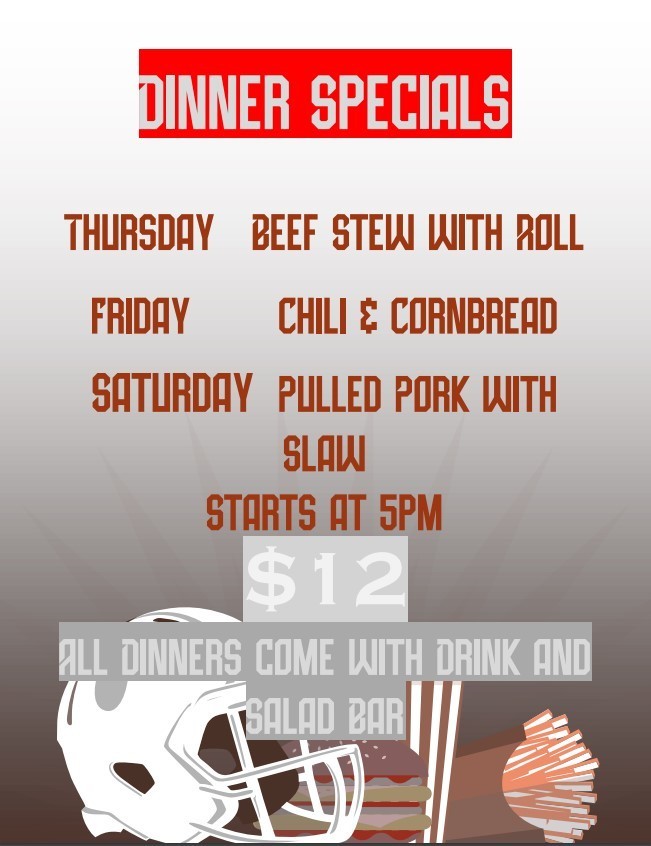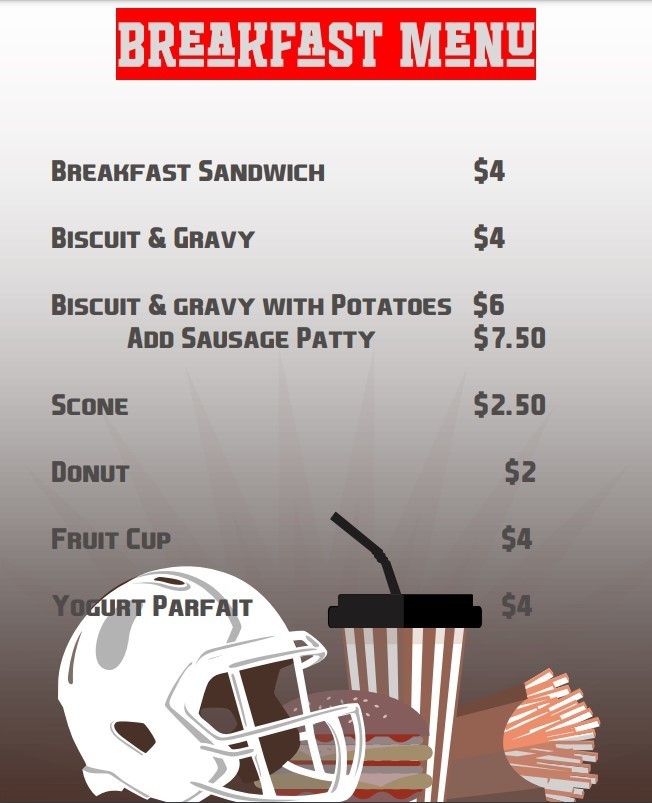 The Classic begins tomorrow! We will have three days full of football and two days full of volleyball. This is our biggest fundraiser for the year, and makes many of our extra activities possible. We are in need of parent volunteers to help cover all of the jobs we have this weekend. We also have lots of opportunities for high school students to get community service. If you can volunteer, please complete this brief google form!
https://forms.gle/QB3PPrt4RhSNjJKQ7

Welcome back! I will be handing out junior high football equipment to all 6-8th grade athletes who are playing football this fall at back to school night from 6:00-7:30 pm in the middle school boys locker room. If you aren't able to make it to back to school night, we will issue equipment prior to practice on the first day of school Tuesday, September 5th. First day of practice will be Tuesday, September 5th at the Dufur City Park from 3:30-5. Helmets, Shoulder pads, mouth piece and practice jerseys will be provided. Athletes should wear helmets, shoulder pads, practice jerseys, athletic shorts, mouth piece and cleats for the first three days of practice Tuesday, September 5th, Wednesday, September 6th and Thursday, September 7th. Let me know if you have any questions. Thanks, Hollie Darden 6th-8th grade football coach

Here is information for any middle school students who are interested in golf!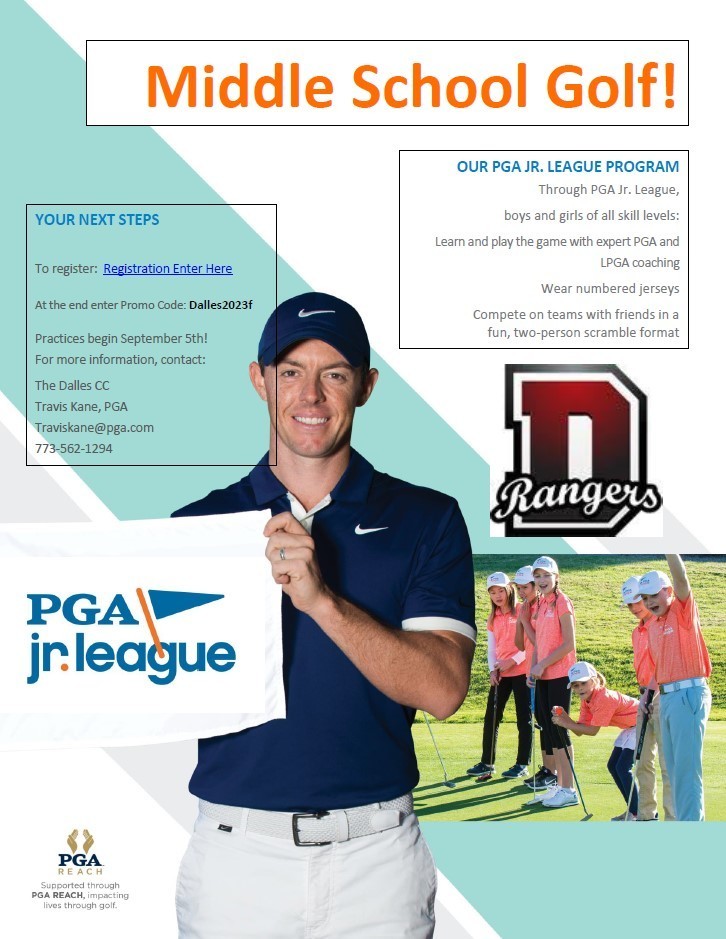 Please consider supporting the Jerri Walker DePriest Endowment Fund. It is an incredible resource for the youth of Dufur School!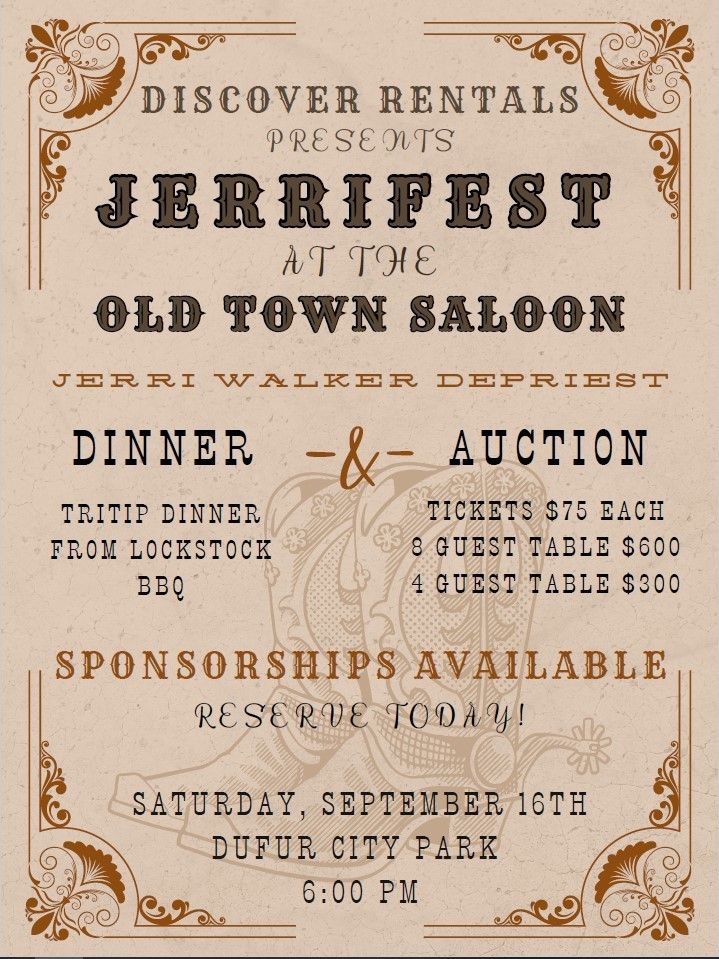 Mark your calendar for August 30th!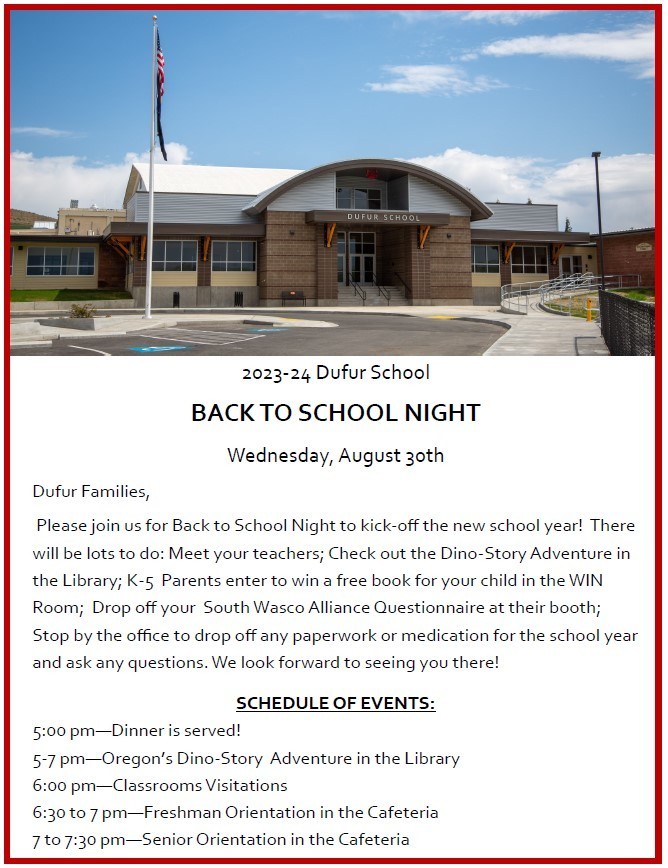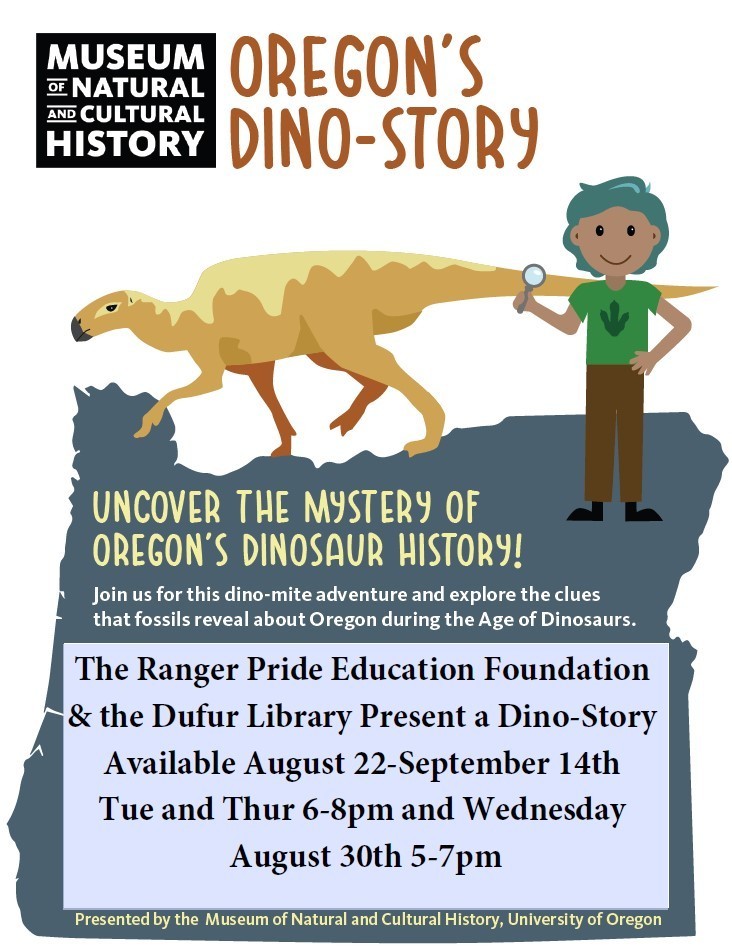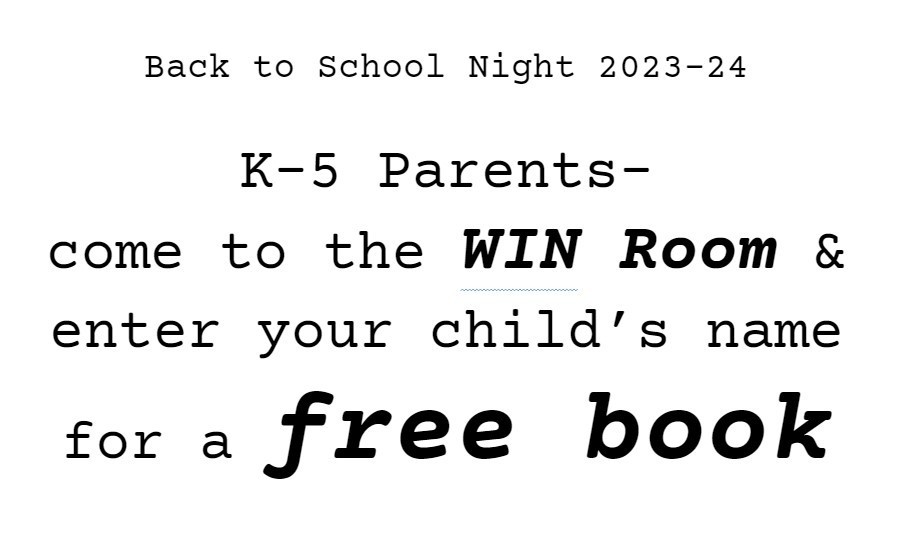 Today was media day for Dufur High School fall athletes. Pat Shortt Photography took team and individual photos, Mrs. Anderson took senior athlete photos, Lindsey and Alex in the kitchen provided all with a delicious lunch, and Y102 Radio interviewed athletes. Here's to a great season. Go, Rangers!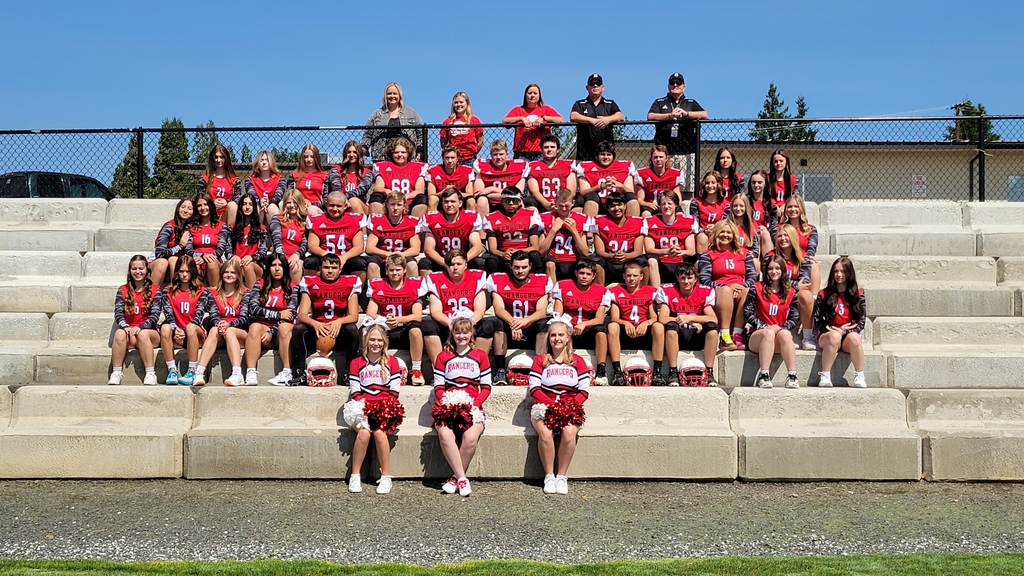 Parents of Dufur Ranger 2023 - High School Fall Sports athletes: Shortt Photography will take photos for all of the Dufur Fall Sports teams on Wednesday August 23rd. If you would like to order photos of your athlete, you can use the link or QR code.
https://www.teamphotonetwork.com/track/e.aspx?2254226-81008-3997841BF5
Just enter your players name as you would like it to appear on their photos and indicate what team they are on (High School Football, High School Volleyball or Cheer). The site will then take you through the ordering process. Orders placed on or before Friday August 25th, will be dropped at the high school and there is no charge for shipping. Orders placed after August 25th will include shipping and will be mailed directly to your residence.